So, I was in isolation at the cabin for four solid days and missed reality TV and the internet almost more than I missed my family. But I got a ton of writing/revising/plotting done so I feel like things are under control as far as book deadlines go.
I drove back like a bat out of hell to make it to a doctor's appointment that was straight out of a nightmare. I was hooked up to an electrical current and had all the nerves in my arms and wrists repeatedly shocked to test for nerve damage due to carpal tunnel syndrome, also known as I Shouldn't Have Cheated Through Typing Class Disease. Fun!
Now I have just enough time to do laundry and repack, for tomorrow the kids and I leave for a 9 day trip. We'll be making our way up to Orcas Island in the San Juan Islands for my family reunion. We've rented this fabulous little chalet for our immediate family: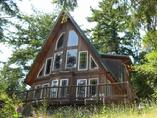 Isn't it adorable? Home base for the rest of the extended family will be at the exquisite Timber Lodge. Me likey:
Orcas is a spectacular island with lots of good memories, all the way back to high school when my friends and I went to bike camp up in the San Juans. I spent a lot of time there when I lived in Seattle and we took the kids there for the first time just last year. We're all happy to be going back. I love any place you can only get to by ferry or float plane!
My postings might be intermittent for the next week or two! Happy summer everyone.